The LinkPeople Waikato team met up for its first full team meeting since COVID-19 restrictions in March recently, catching up at the Houchen Wellbeing Village where social distancing could be observed.
"The day was really good for the team to connect and share, and was the first time we all had a moment to be present and together as one team after returning from lockdown," Waikato acting regional manager Tyron Pini said.
From housing case workers to tenancy specialists, the team caught up with what's been happening around the region this year.
Each team leader gave an update from their patch, including discussions around the new rapid permanent housing and sustaining tenancies at risk contracts. It was also a chance to catch up on the progress of Ahikāroa, the fast-growing housing service for people accessing mental health and addiction services from the Waikato DHB or Hauora Waikato Mental Health and Addiction Service.
After that, the team flexed their creative muscles in an art competition, designing artwork to feature on a panel in LinkPeople's new Kākāriki House office.
"Some of the team did pictures of where they're from around the world, while others created designs based on the work we do" Tyron explained.
Then they spoke about what the design meant to them in their work."
The triangular artworks represented the diverse nature of the team, with members coming from as far afield as the United Kingdom, the Netherlands, Uganda, and Somalia.
The day was the first of what is hoped to become monthly meetings, lockdowns permitting, with agencies such as Work and Income and Kāinga Ora to be invited along in the future, Tyron concluded.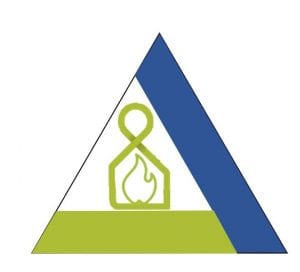 Housing coordinator Glen Mathews combined the LinkPeople and Ahikāroa imagery which demonstrated the context around the two – Ahikāroka being part of the wider LinkPeople service – keeping the home fire burning to give warmth and light for people.