Karakia was performed at LinkPeople's new Pantera Way development in Manurewa today, the next step in the 30-unit property's journey towards completion.
Wise Group cultural lead Keri Opai performed the karakia, with some of the LinkPeople team and board members on hand to individually bless each room within the units. The purpose of the ceremony was to create a sense of warmth and aroha for those who will be moving in, with those in attendance holding kind thoughts for people who will soon call the units home.
It was a small group due to COVID-19 restrictions on gatherings, but the excitement about the South Auckland development was still evident.
Board member Penny Hulse said she was struck by the fantastic feeling of the place, and paid tribute on behalf of the Board to the tenacity, grit, and determination of LinkPeople staff who have worked tirelessly to make the development possible. The new community will be a place for people to stand, their turangawaewae, Penny said, providing the stability that is a crucial part of being able to live well.
Made up of three blocks of two-bedroom units, the Pantera Way development has been thoughtfully planned, with outdoor living spaces part of the construction. It also backs onto a reserve, so tenants will be able to enjoy beautiful views and access to green spaces.
LinkPeople has worked alongside a property developer to create the development, which is within walking distance of local amenities including public transport, the library, supermarkets, Work and Income, GPs and addiction supports. One of the units has been designated as an office, where LinkPeople staff can be based and tenants can come with any concerns or just to chat and connect.
Twenty-nine people, many of whom are currently homeless and are in motels, will start moving in over the next few weeks. ​​​​​​​
And because LinkPeople is a registered community housing provider, the tenants will be paying no more than 25% of their income as rent due to the Income Related Rent Subsidy. So not only will people have a beautiful new whare to call home, but they won't have to break the bank to stay.
An official opening with the full LinkPeople team and tenants is planned for later in the year, when COVID restrictions have been lifted to allow for larger gatherings.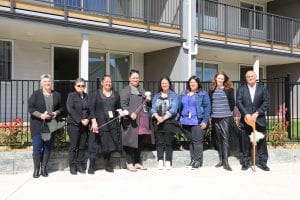 Left to right: LinkPeople Board members Penny Hulse and Hine Martin, housing case worker Dawn Waru, team leaders Leonie Kaipo, Belinda Heta and Lizel Jeptha, chief executive Fiona Hamilton and Wise Group cultural lead Keri Opai at the new development.